2009.08.28
On the 29th of August Buffalo Ben will be performing in Nykarleby, Finland at Sven Nyman's place on Jutasvägen 217, Forsbackan @ 8pm.
The main artist is Jack vreeswijk, I'm just there to play with the bulls :-)
Buffalo Ben is:
Eero Lakaniemi, bass, b-vox
Samuel Dahl, steel guitar, dobro
Sixten Sandvik, drums
Ben Antell, guitar, vocals
---
On wednesdays at 1900 hrs I'm always at Missionskyrkan in Kvevlax, Finland praying for people (when I'm not travelling).
On sunday evenings I'm usually in Vörå Frikyrka (Baptistt-Pentecostal :-) Or at Sion Församlingen (Pentecostal) in Vasa.
---
2009.05.30
Hello, I haven't had time to inform you of what I've been doing lately. My life has changed drastically. Since I started praying for and with people more with the laying on of hands, many have been healed.
I've been into intercessory prayer in many churches. Lately I've been asked to preach as well, so now I'm a preacher! How about that? If someone had asked me a few years ago if I was going to become a preacher, I would probably have laughed. But since I began searching more for God's will and walking on water, I have been called to do many things.
Next week I will be going to Bergskyrkan in Hässelby, Sweden to preach in at least two meetings, since I've been asked to do so. I will naturally also be praying for the sick, which I always do when I preach.
I will be in Stockholm June 5th - 17th. 2009.
God Bless you all, Benjamin
---
2008.03.14
New video one month ago (11 in all): Waiting here - what can I do? on http://www.youtube.com/thalonen
---
2008.01.01
Ben is performing solo at present, just the man and the guitar.
---
New video: watersong (check out the dog :-)
---
New video: WYSIWYG
---
Check out Ben's write, if you dare...http://www.antell.com/devotionalblog.html
---
2007.12.23
All BAB videos + the new on "There's a space inside of me".: http://youtube.com/user/thalonen
---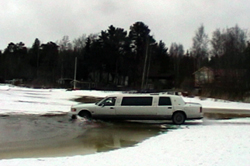 New Video: I was looking 4 love!
---
Ben is an eccentric rock gospeller from Finland - crossrhythms.co.uk
---
A new FREE mp3's page is born.
---
Ben's giving away all his music as mp3's for free!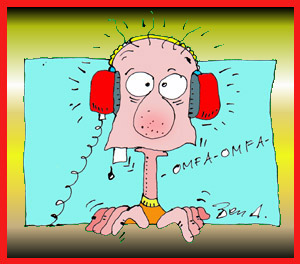 I've been thinking about it for years, and now I made up my mind after reading FIRE ON THE EARTH by Dr. Eddie Hyatt. (Editor)
There U go:
In the bag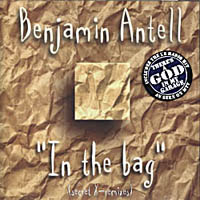 Track 1 Be Bop Dun de Dum.mp3
Track 2 There's a God in m.mp3
Track 3 The Money Song.mp3 (don't know if I can legally give this one away)
Track 4 If you find the li.mp3
Track 5 My darling daughte.mp3
Track 6 Waiting 4 elevator.mp3
Track 7 Watersong.mp3
Track 8 The Parrot and the.mp3
Track 9 Through a glass.darkly.mp3
(Release Waam 002) 1996, This was a breakthrough CD, the record is a mix of electronica. Most instruments were played by hand though! We mostly used the sequencers as tape recorders, without quantizing anything, even though there are some loops. The track God in my garage was on MTV Europe for many years! The track "There's a God in my garage" is also released by n'soul records in Hollywood, California, on their ELECTICA 3 1999 CD.
Box Americana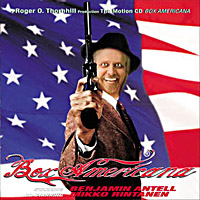 Track 1 Box Amreicana.mp3
Track 2 I'm just coming 4.mp3
Track 3 B my doctor yeah.mp3
Track 4 2morrow could B ye.mp3
Track 5 Many a night.mp3
Track 6 Hollywood Pollywou.mp3
Track 7 If...U would still.mp3
Track 8 My Billabong.mp3
Track 9 God in my garage I.mp3
Track 10 Sister Circumstanc.mp3
Track 11 My darling daughte.mp3
Track 12 Departure.mp3
(2000, Release by Riverside Records RRCD 109, Stockholm). This is a rock/pop record, it has been on the air for 7 years now at least in the USA.
Luna Park (NEW)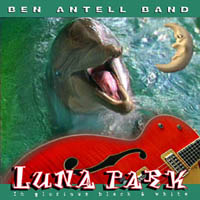 Track 1 Flowers in my hair.mp3
Track 2 I was looking 4 lo.mp3
Track 3 I love U so can't let U go.mp3
Track 4 Piccolo - Bell boy.mp3
Track 5 BIG BANG - Wham bam.mp3
Track 6 What a beautiful Dei.mp3
Track 7 Everything is relative.mp3
Track 8 Waiting here, what can I do?.mp3
Track 9 There's a space inside of me.mp3
Track 10 Camel Race - Helter skelter days.mp3
Track 11 Shyna a little love.mp3
Track 12 WYSIWYG - What did U x-pect?.mp3
Track 13 Wish I could dance like David did.mp3
Track 14 I'm coming home, 'cos I love U so.mp3
Track 15 One day you're here, one day you're gone.mp3
Track 16 I love my little girl(s).mp3
Track 17 When night is cold.mp3
Track 18 Delhi Delhi.mp3
Track 19 Coming or going?.mp3
Track 19 Really hidden track.mp3
(Release 2006-7) Waam 009, New!) This seems to be my most popular recording to date. My old friend and CO-founding member of Ben Antell Band, Sixten Sandvik plays the drums, and I (Ben) play all the other instruments. The album is a mix of Hi/Lo Fi, it has a live rock feel.
I will add the other recordings to my site later, when I find the time :-)
There was a warning issued the other day on the news that the ice on the sea is melting.
The general public was told not to go out on the ice...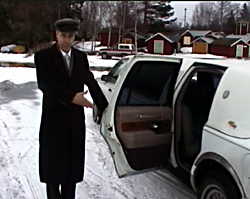 Being a rock star I rented a limousine yesterday with a brave driver 2 find out: why :-)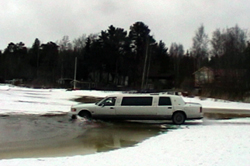 Gerby Splash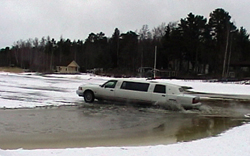 !
Gerby Splash 2...and gurgle...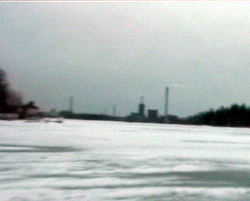 Bouncing around on the Gerby ice we could see the Wasa coastline...through the mist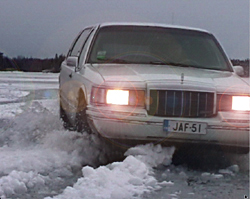 It took a while before the limo started going boing boing on the ice, and the limo sinking slightly...so I wouldn't recommend going out there any more.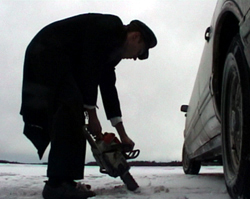 I told the my driver to stop and check the thickness of the ice...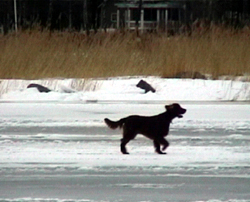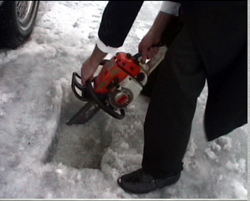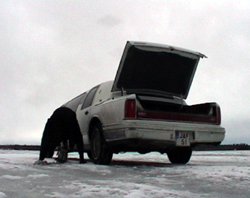 It was warm and cozy inside the limo, but I could tell from the driver shivering that it was probably very cold in the wind outside.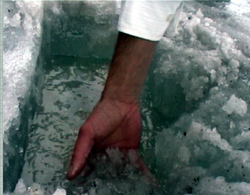 I was getting hot inside so I told my driver to scoop me some ice for my Coke.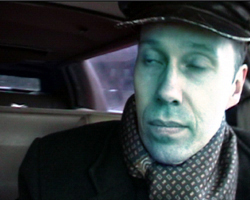 The driver looked coldish...
Although brave, the driver who was named after a bunch of trees (Asplund), declined to go out another time, so that I could get the Mega-splash we created when we got ashore...oh well.
The material we filmed on the ice will become a new Ben Antell Band music video any day now. We will post it on youtube.com
---
STYLE: Rock
Release: Riverside RRCD109
Benjamin Antell
BOX AMERICANA

Reviewed by Tim Holden
Finnish muso Antell has been around for a while with a large number of albums to his name - as well as some great art and a software company! 'Box Americana' (released in 2000) marked his move from straight electro dance to a more rock orientated sound and is full of interesting twists and turns. This album keeps interest going right to the last track. The guitar sounds are sometimes reminiscent of the Gillan Band and he uses atmospheric sound samples to set the scene for some songs or give an Art Of Noise feel here and there. Covering topics from where has the Gospel gone in American life through to how TV and films have captured a generation, the songs ask loads of questions and start pointing to God for the answers without ever trying to ram the theology down your throat. A well produced album with a nice touch of quirky humour.
---
2007 02 17...
BEN ANTELL BAND - LUNA PARK review on the Phantom Tollbooth:
Whoa nelly! Ben Antell Band is an indy-rock band from Sweden (they sing in English) that have created a blessedly warped and catchy bunch o' tunes on Luna Park. This album is a flat out blast...
Do yourself a favor and check out for musical thrills and chills a bit unlike anything you have heard recently. And you gotta' love titles like "What a Beautiful Dei," "Piccolo Bell Boy," "Camel Race - Helter Skelter Days," and the ever popular "Really Hidden Track."
(for the complete review check ou the link below:)
http://www.tollbooth.org/2007/reviews/benantell.html
P.S. BAB are from Finland :-)
---
2007 01 06
New video on youtube.com!
Track 1: Flowers in my hair. From BEN ANTELL BAND - LUNA PARK.
http://www.youtube.com/watch?v=_lbYrDx7mBE
---
2006 12 09
...

WAAM/BIG BEN
BOX 325
FIN-65101 Vasa
Finland
---
2006 11 17
10.50 Yle Vega, Finland. Interview with Ben Antell • LUNA PARK
---
2006 10 23
Ben will be in Stockholm 25-30th shooting shots for upcoming video(s), for tracks from LUNA PARK. He will probably be offline most of the time during the filming.
---
2006 10 14
The Box Americana video is made with the Marathon engine.
Ben's Videos are on youtube.com (there will b more).
---
2006 10 16
LUNA PARK "in glorious Black & White"
NEW CD !
The guitar based Luna Park.
For those who are interested, Ben played: acoustic/electric guitars, acoustic/electric violins, landolin, cello, kantele, triangle, rain stick :-), perc., harmonica, keyboards etc. and sang. There are also animals on the CD, such as chickens, roosters, woodland birds and a frog...
The rhythm tracks were recorded live in the studio with no sequensers at this time only jam.
We have finished recording the tracks for the 25 Year Anniversary CD.
Number: 11 NE BENJAMIN ANTELL CAN'T KEEP A GOOD MAN DOWN FINLAND INDEPENDENT
Liquid Elev@tor is out of order. It is uncertain at this time if the project will continue.
Liquid Elev@tor was Benjamin Antell and Michael Waegar.
I have to go public with this because, I can't play with Atyd anymore, since they turned Christ up side down on their latest CD cover. We now serve different Masters (sad but true).